The Perfect Tee Golf Accessory - Plastic Golf Tees
About The Perfect Tee Golf Tee


The Perfect Tee (TM) is a golf accessory using advanced technology that helps you play better golf, guaranteed unbreakable and is idea for use with oversize and normal drives.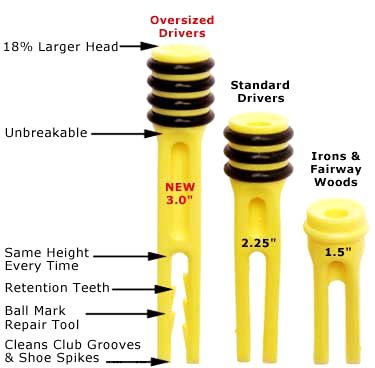 Features and Benefits
Maintains consistent ball height to ensure more reliable clubhead contact at impact.
Provides a solid launching pad. The Perfect-Tee(TM) has an oversized head for holding the ball securely.
Trajectory can be varied to accommodate high wind conditions.
Promotes mental confidence about hitting the ball.
The 0-rings protect the face and sole of expensive metal woods - eliminates wood tee damage and markings.
The Perfect-Tee(TM) can be used as a ball mark repair tool - encourages ball mark repair.
Excellent sighting tool for lining up long putts.
Excellent for cleaning scoring lines on the face of clubs and golf spikes
Two versions available - one for woods and one for irons.
Golfer only has to carry two tees during play.
The Perfect-TeeTM comes in several lengths and color combinations.
One Year Warranty under normal usage. The Perfect-Tee(TM) is made with durable, aerospace-composite material.
Guaranteed Tee: game enhancement money back performance guarantee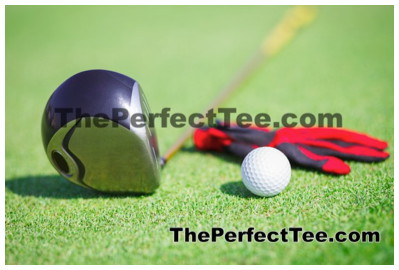 Improve your game.....
Consistent Ball Height, Solid Launching Pad, Longer and Straighter Drives, Improves Confidence, Variable Tragectory, Eliminates Tee Box Debris, save thousands of trees and is permitted under "Rules of Golf".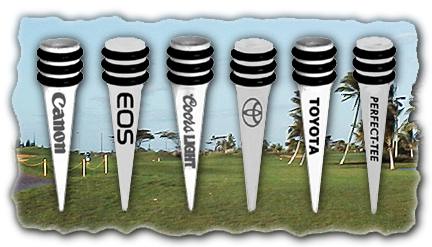 Improve and Advertise your business.....
The Perfect gift for brand identity programs and corporate events!Indestructible Perfect-Tee(TM) provides continuous, lasting impressions!Highly perceived value by golfers!Logos are shown for demonstration purposes only - no endorsement implied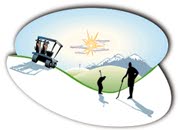 Good For Golf and Golf Courses:
Eliminates debris on the tee box.
Speeds up play - tee is easy to find because of attractive color combinations.
Encourages golfers to repair ball marks on green.
Eliminates the need to carry a "handfull of tees" in your pocket.
Made in the U.S.A.

Good For The World:
The Perfect-Tee(TM) is a "Green" product.
The Perfect-Tee (TM) could save approximately 500,000 trees per year, which are currently used to make wood tees. Most users are hitting their golf ball longer and straighter when using the Perfect-Tee(TM). We call this, "Game Enhancement".
Permitted for use "Under the Rules of Golf"

The "Swiss Army Knife" of tees helps any golfer PLAY BETTER GOLF!
ref no:2044
Featured Product/Service
<!PDF LINK>
TESTIMONIALS
"I've tested the product and seen its benefits"
Art Sellinger
Two Time World Long Drive Champion, Owner LDA
The Perfect-Tee is the "Official Golf Tee" of the Long Drivers of America
Pat Dempsey
Wins RE/MAX 2002 Seniors
World Long Drive Championship
Using the Perfect-Tee»
Winning Shot - 342 Yards
"The Perfect-Tee has become my best friend. It has allowed me to perform at the longest and highest level. If you want to hit your drives long and straight, I suggest you use the Perfect-Tee. I do."

Cary Schuman
, Guinness World Book of Records Holder for Longest Drive - 463 yards 10 inches
"The Perfect-Tee is the best golf tee in the world."
"The Perfect-Tee is just that-perfect."

Paul Runyan
Winner of over 50 PGA Tournaments, including 1934 & 1938 PGA Championships.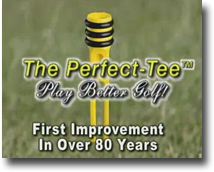 <!998Template_start>
<!998Template_end>
---
Please send questions about this website to